At Inspire Salon and Spa, we believe that every face tells a story and deserves the finest care to keep it glowing, healthy, and beautiful.
Our range of personalized, clinical bioelements facial treatments are carefully curated to meet the unique needs of your skin, offering a tranquil escape from everyday stress while revitalizing your complexion.
Let's embark on a journey to radiant skin together!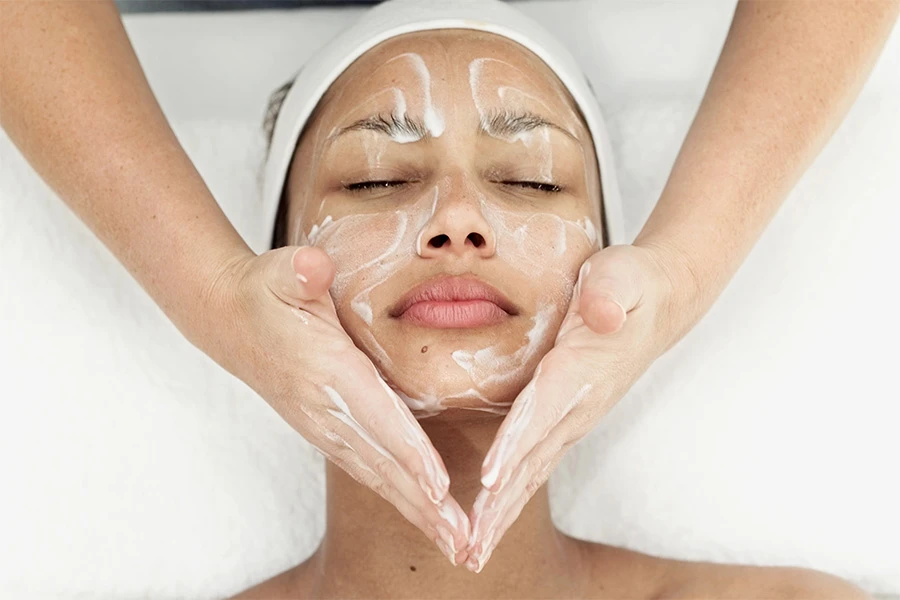 Custom Blend
There's no facial more personalized to your needs than this. Each step is a fusion of science, natural botanicals, aromatherapist oils, and luxurious techniques customized with clinical strength ingredients uniquely designed to deliver results. The first step begins with an individualized SkinReading® to determine your concerns and skin goals, followed by invigorating cleansing, exfoliation and skin sedation, a custom blended aromatherapeutic facial massage, plus a power treatment and mask targeted to your concerns.
Calming
Designed for skin that's stressed, red or delicate, this advanced facial is the best of both worlds: it's incredibly calming, as it advocates for a strong, healthy barrier. Clean, clinical ingredients triple-target sensitivities, as active strengtheners nourish skin's barrier – all enveloped within soothing massage techniques. The ultimate corrective facial for chronic sensitivities, event-based sensitization, or preemptive care.
Oxygen Glow
A purifying treatment to renew skin that's dull, tired, sluggish, clogged or prematurely aging - with purified hydrogen peroxide and a duo of glow-getting massage techniques. In three corrective activity tiers designed to deliver personalized results with increasing levels of oxygenating exfoliation.
Ultra-Detox Chemical Peel
The skin you want is under the skin you see. Reveal it with our powerful, non-surgical acid-hybrid peel. You'll undo years of visible damage and premature age signs – without the redness, flaking, or actual "peeling" of the skin from a traditional peel. Our advanced peel technology removes the uppermost layers of the skin at a microscopic level, to immediately tighten, unclog pores, improve lines and leave skin with a younger, velvety-smooth texture. Plus, you'll benefit from detoxifying activated charcoal to draw out aging impurities. Best results achieved with a series of treatments –your esthetician will choose from two different glycolic acid levels to meet your skin's needs each time.
Diamond Microdermabrasion
Is a mechanical exfoliation of the skin. It uses a diamond top to smooth skin's uneven texture. This service helps to remove dead skin cells, decrease fine lines, minimize pore size, and even out discoloration
Diamond Hydrodermabrasion
Uses the same technique as the Diamond Microdermabrasion but adds a liquid solution to infuse the skin with specialty serums. Serums can benefit and target specific conditions including acne, aging, discoloration and hydration.
Radiofrequency Therapy
Radiofrequency therapy uses a hand held tool that feels like a warm stone massage for your face. It promotes production of collagen + elastin, diminishes wrinkles, and tightens skin.
Even Brighter Facial
Clinical skin brightening treatment to target dark spots, dullness, discoloration and uneven tone. In three corrective activity tiers designed to deliver personalized results with active enzymes, lactic acid and/or glycolic acid. Recommended to be experienced in a facial series of increasing levels of activity for optimal visible results.
Firm + Lift
A one-of-a-kind treatment designed to lift and sculpt the look of sagging, aging skin. Our esthetician will evaluate your most urgent concerns, followed by deep cleansing and exfoliation to prep your skin for clinical ingredients. We'll intensify your results with bioelements Firmament, a gravity-defying mask so powerful, you'll feel it working to lift and tighten. And, you'll see visible benefits immediately, as poor elasticity, dullness, and lines improve.
Clinical Acne Facial
Designed for stubborn acne, hormonally induced breakouts or chronic clogged pores + blackheads. Deep pore cleansing and exfoliation are followed by a salicylic acid medicated power treatment and sulfur power mask to clear + heal. In two corrective activity tiers designed to deliver personalized results with increasing levels of active exfoliation.
Herbal Grains Retexturizer
A one-of-a-kind, dual-action retexturizing facial to deliver both physical and chemical exfoliation with bioelements cult-favorite Chinese Herbology. You'll experience a complete exfoliating facial featuring these ancient herbal granules to first sweep away dulling cells, then melt into skin, releasing natural AHAs. You'll emerge with skin that's smoother, brighter and completely revitalized.
Celluma Light Therapy
FDA cleared light therapy treatment designed to manage a variety of pain and skin conditions. Celluma uses light energy to improve cellular health by accelerating the repair and replenishment of compromised tissue cells. Celluma uses 3 different settings including acne, aging, and pain management.
Hydrofacial
Is the latest in skincare and an alternative to microdermabrasion by using oxygen and a pressurized liquid solution to abrade the skin. This high velocity procedure hydrates, cleans, and revitalizes skin while stimulating collagen and elastin to promote a youthful appearance. This treatment is also great for sensitive skin types that previously couldn't tolerate microdermabrasion including rosacea.
Dermaplaning
Helps to refinish the skin's top layers through a method of surgical scraping which exfoliates the epidermis. It removes the "peach fuzz" which can trap excess dirt and oil.
Back
Designed to rejuvenate and nourish your skin, our back facial is a specialized treatment that focuses on the often-neglected skin on your back.